WOMEN IN ENTERPRISE
COFFEE & CONVERSATIONS NETWORKING EVENT
Featuring Guest Speaker: Cassie Jane Buckley, Founder of Maid in Media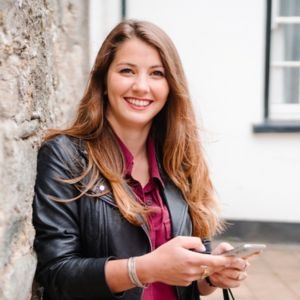 Date: Wednesday 7th June 2023
Time: 9:30 am to 11:30 am
Location: The Innovation Centre at Catalyst Board Room, Bay Road, Derry/Londonderry, BT48 7TG
Tel: 028 71 867600
Event Fee: £8 (+small Eventbrite fee)
Registration: Register Via Eventbrite (Must register by 6th June 3pm)
BUILDING A SOCIAL MEDIA STRATEGY FOR BUSINESS GROWTH
Cassie Jane Buckley
Social Media Strategist & Founder of Maid in Media
We are delighted to bring back our signature Coffee and Conversations Networking Event to finish the year before summer break. Please join us on Wednesday, the 7th of June, with featured guest speaker and social media expert – Cassie Jane Buckley, Social Media Strategist & Founder of Maid in Media. Cassie Jane will share with us insights on creating a social media strategy – what are the basics and what you need to focus on in order to build an engaging and authentic online brand.
There will be time for networking where you can meet and chat with like-minded women, get connected, get inspired, and further your professional and personal network base. Delicious scones from the award-winning Pickled Duck Café will also be served along with their lovely coffee and tea.
There are limited places available for this networking event – be sure to book your place soon. Registration Required.
We look forward to having you join us!
---
ABOUT CASSIE JANE BUCKLEY
Cassie Jane is a Social Media Strategist and Founder of Maid in Media, an agency that supports entrepreneurs to grow their independent businesses through the power of social media. Her expertise was developed while living in England and growing her first platform, Maid in Oxford, where she focused on celebrating community, highlighting local producers, and helping other businesses get noticed online. Maid in Media was started in the middle of the pandemic when Cassie saw how independent businesses struggled to connect with their customers whilst their doors were locked. Since then, Cassie has made it her mission to work with small business owners and support them in making social media an effortless part of the day-to-day running of their businesses.
For more information: www.maidinmedia.com
---
ABOUT WOMEN IN ENTERPRISE
Women in Enterprise is a non-profit organisation and professional network for women in business. Whether self-employed or employed by someone else, enterprising or entrepreneurial – our supportive network encourages and empowers women IN business and INTO business. We provide signposting to relevant business support services and organise relevant business support events including networking, educational, and workshop events in the Derry/Londonderry area. Our members are movers and shakers making a difference in Ireland – both North and South. For more information about us and our membership benefits, please visit our website: www.womeninenterprise.biz