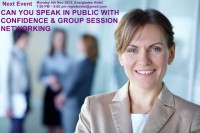 CAN YOU SPEAK IN PUBLIC WITH CONFIDENCE & GROUP SESSION NETWORKING
DATE: Monday 4th Nov 2013
VENUE: Everglades Hotel
TIME: 7.00 pm – 9.00 pm
REGISTER: registerwie@gmail.com
COST: £5.00 per person including Toastmasters taster session, tea/coffee and tray bakes and networking with other Women in Enterprise Members
Download Flyer Here – please share with anyone interested
This event will give you tips for developing the skill of speaking in public with confidence.  Martin Davies from Toastmasters has agreed to provide us with a taster session on tips of how to develop our communication skills and ability to speak in public with confidence, this is a skill that is of critical importance in our everyday lives and in our businesses and one which a lot of people in general struggle with having the confidence to do.
Martin has been involved in Toastermasts for 5 years. Toastmasters International is a world leader in communication and leadership development. It has a membership of 292,000 strong. Their members improve their speaking and leadership skills by attending one of the 14,350 clubs in 122 countries that make up their global network of meeting locations.
This taster session will be followed by small group sessions on how Women In Enterprise can support us and our businesses going forward.  This will also provide an opportunity for us to share our experiences with each other and create networking opportunities.
*Note from Toastmasters
Toastmasters has been called the world's cheapest university. Two local clubs to check out are Foyle Speakers in Derry/Londonderry: http://www.facebook.com/FoyleSpeakers and Talk Club in Letterkenny:http://www.facebook.com/talkclubletterkenny. Please check out the websites for meeting details, the commitment is small, our meetings take about 2 hours once per fortnight, and we love to have guests attend our meetings to see what we're all about