SUMEETA GUPTA – COMMITTEE MEMBER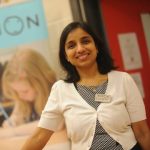 As a doctor in Alternative Medicine, Sumeeta Gupta graduated from Mumbai University in 1997 and practised medicine for nearly 5 years before moving to Northern Ireland with her husband in 2002. The move was challenging as with no family support she had to look for alternative careers to suit the demands of her increasing family. She trained herself to be a Kumon Instructor and joined a global franchise in 2012. She is currently the owner and Head Instructor of Foyle Kumon Study Centre in Derry / Londonderry which is a maths and English Study Centre for children of all ages and abilities.
Passionate about giving back and being a responsible member of the community, Sumeeta has been extensively involved in many projects with the Derry City and Strabane District Council; she promotes Indian culture via workshops and as a speaker at events across schools and community groups throughout the district area. She has played a major role in organising the Diwali festival as a major event in Derry for a number of years.
Sumeeta is a mum of two girls and believes in a well-rounded growth for them with education as a priority. Her expertise as an educator and leader extends to all by encouraging a love for learning and can-do attitude – especially women – who might not have a support system. She believes that if she started her own business, anyone can too and is passionate about inspiring others to learn, progress and achieve their goals.
Email: sumeedg@yahoo.com
https://www.kumon.co.uk/foyle/