Enterprise Week 2023
Taking place at various locations across Derry & Strabane from 6th – 10th March 2023, the popular event which has become a major highlight in the annual business calendar, offers a week-long programme of events supporting budding entrepreneurs and seasoned business owners alike.
3 Women in Enterprise participants
Live Session: Tuesday 7 March
Patricia Kelpie – panellist  The Funding Game – Accessing Business Finance

On Demand Sessions
Catriona Jones – Building Unstoppable Confidence
Brenda Plummer – Successful Grant Applications
The Funding Game – Accessing Business Finance
Patricia Kelpie, Women in Enterprise Co-Chair, will be featured in a panel discussion on Tuesday 7th March. As a winner of both a Catalyst Co-Founder £10K Grant in 2021 and Techstart £35K Concept Plus Grant in 2022, she will be joining industry experts and other entrepreneurs in a panel discussion to help equip you with knowledge and confidence in navigating the financial landscape to support your venture.
To register for free:
https://www.eventbrite.co.uk/e/the-funding-game-accessing-business-finance-tickets-513915614437
Also featured are Women in Enterprise Committee Members with online events on demand:
SUCCESSFUL GRANT APPLICATIONS – presented by Brenda Plummer, a skilled grant writing consultant with a particular focus on small businesses has a proven track record of securing funding for her clients.
Her presentation will offer advice on:
What is a grant?
What types of grants are available?
Where can you find grant opportunity announcements?
Completing and submitting your applications – the DOs and DON'Ts
Managing your grant award successfully
Register here:
https://www.eventbrite.co.uk/e/successful-grant-applications-tickets-516966208847
BUILDING UNSTOPPABLE CONFIDENCE – presented by Catriona Jones, International Author, Female Empowerment Coach and Motivational Speaker. Whether you are presenting a business plan, meeting a prospective client or simply doing your elevator pitch, exhibiting confidence is a necessary and obtainable skill towards success.
This presentation will:
Explore the impact of confidence on communication
Give tips and advice to business personal confidence
Offer a valuable toolkit to support personal growth
Inspire confidence and prosperity
Register here:
https://www.eventbrite.com/e/516953681377
EW2023 Programme at a Glance
Download the 'At A Glance' programme here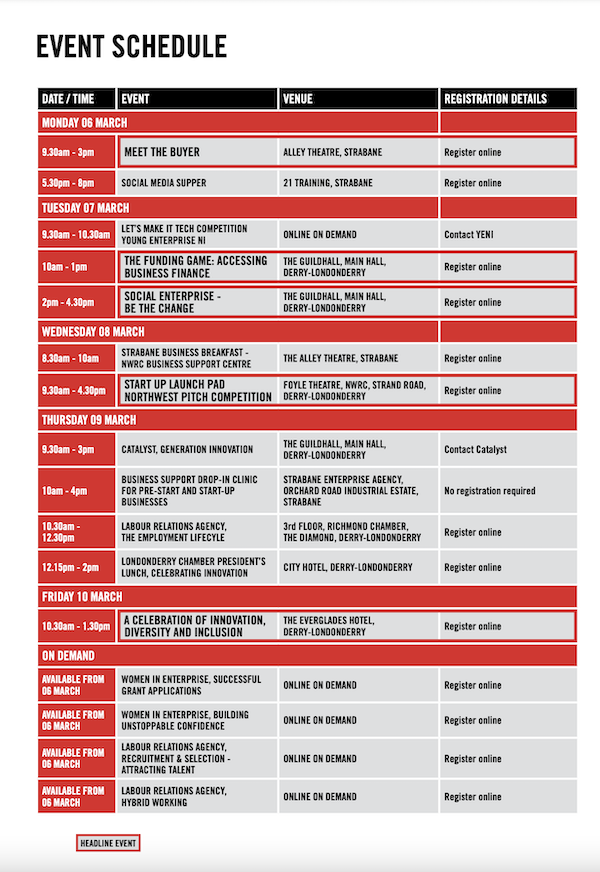 ---
Download the full programme on the Derry Strabane Website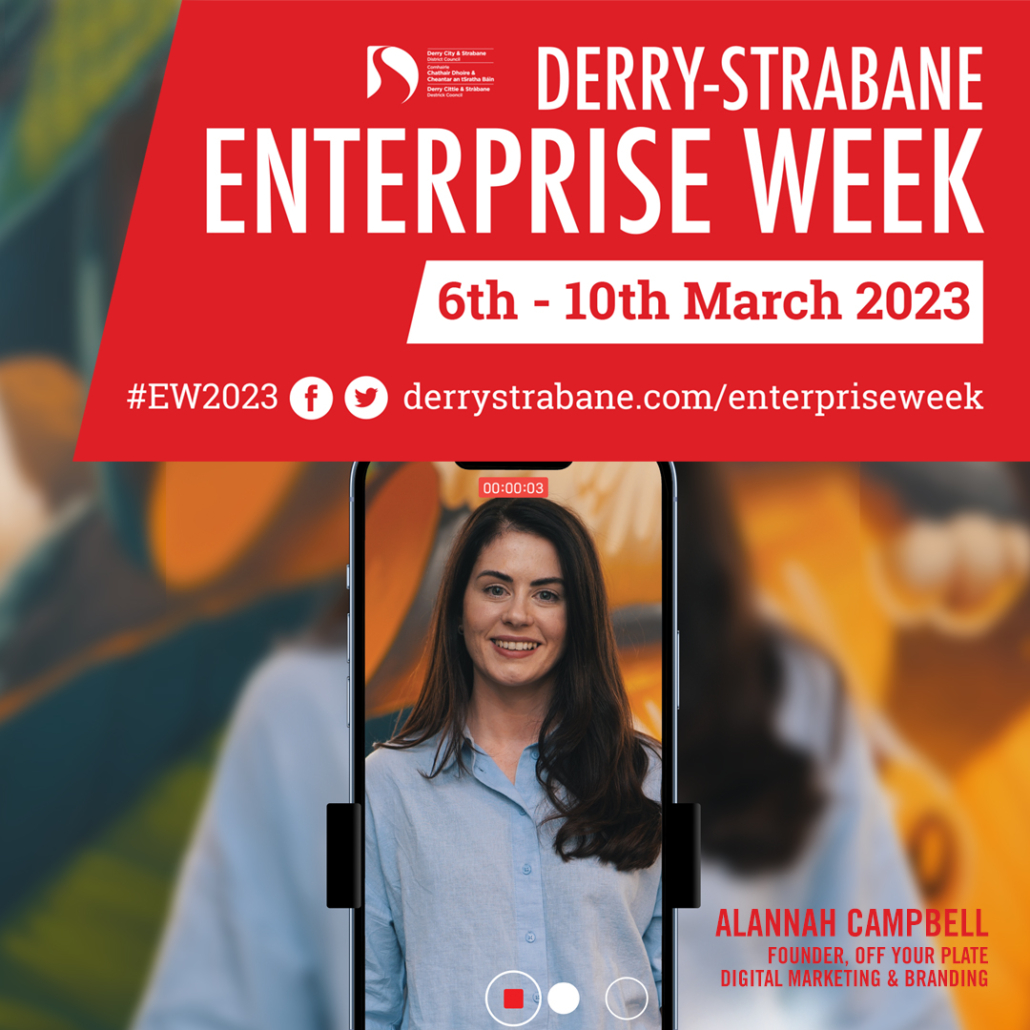 ---
Press Release January 31, 2023
Mayor launches exciting programme for Enterprise Week 2023
The Mayor of Derry and Strabane, Councillor Sandra Duffy, today unveiled this year's Enterprise Week programme, packed full of essential advice and information for anyone keen to fast track their way on the path to success.
With events and activities geared towards both budding and established entrepreneurs, this year's programme will run from March 6th-10th at locations across both Derry and Strabane.
The theme for the week will be 'Seeds of Change' examining the business lifecycle from ideation through to realisation, and charting the success of the Micro-Businesses and SMEs across the North West who have grown and developed in recent years.
The 2023 programme will offer a broad spectrum of expert advice and provide practical workshops, panel discussions and networking opportunities, led by some of the most successful local industry leaders.
Launching the event, Mayor of Derry and Strabane, Councillor Sandra Duffy, said Enterprise Week could be the ideal launch pad for anyone hoping to start a new venture. "I am delighted to launch this year's Enterprise Week which is the most important date in the calendar for anyone serious about local business," she declared. "It offers a fantastic platform for industry leaders and budding entrepreneurs to come together, share learnings and generate new ideas, all to the benefit of the wider local economy.
"It's an open forum for discussion around some of the key concerns for local businesses, and those just starting out on their business journey can draw on the expertise of some of the most successful industry leaders in the North West. It really is a one stop shop for entrepreneurs keen to push their venture to the next level, and I hope to see a fantastic turn out this year."
This year's programme will open with the popular 'Meet the Buyer' event offering the chance for businesses to increase sales through valuable networking opportunities, particularly public sector and organisations with large buying capacity. Other highlights include The Funding Game: Accessing Business Finance, an event geared towards businesses seeking advice on a range of financial areas, including funding models and potential opportunities, Commercial Debt and Equity Funding, Business Support Grants, Angel Investors, as well as new ways to overcome financial hurdles.
Social Enterprise has become a major focus for companies keen to bring about positive social change through their work, and businesses can find out more about the wide ranging benefits at the Social Enterprise – Be the Change session.
Enterprise Week, as always, draws on the experiences of some of the most creative and successful industry champions and this year keynote speakers include social entrepreneur Dave Linton, creator of Madlug, Nigel Hampton, CE of IncredABLE, and best-selling author, entrepreneur and philanthropist, Jude Morrow. They will share their inspirational stories as leaders of businesses striving to make real change through clever products and projects aimed at supporting and empowering people.
Budding entrepreneurs will have the chance to pitch their business ideas to the industry experts, and hopefully secure their share of a £15k prize fund to help set them on their business journey at the Start Up Launch Pad North West event hosted at North West Regional College. It's the perfect opportunity for anyone with an exciting new business concept, and participants will have the chance to hear from successful start-ups who are already well on their way to success.
These are just a few of the highlights of the Enterprise Week programme, and Head of Business with Council, Kevin O'Connor said he was looking forward to a busy week. "I am delighted to be working once again with such a wide range of enterprise support partners to deliver an ambitious and comprehensive programme of business support for Enterprise Week. We have a strong business community here in the North West and this event provides a platform to make meaningful connections with investors and to access targeted support across a wide range of sectors. These are challenging times for all businesses, but help is there and we can signpost you to the advice you need at all levels of your entrepreneurial journey."
Plan the best Enterprise Week experience to suit your business by checking out this year's programme and signing up at derrystrabane.com/enterpriseweek
https://www.womeninenterprise.biz/wp-content/uploads/2023/03/EW-2023-1-1.jpg
300
300
WIE
https://www.womeninenterprise.biz/wp-content/uploads/2021/10/wie-logo-300x86.jpg
WIE
2023-03-01 19:39:00
2023-03-05 09:09:11
Enterprise Week 2023 #EW2023