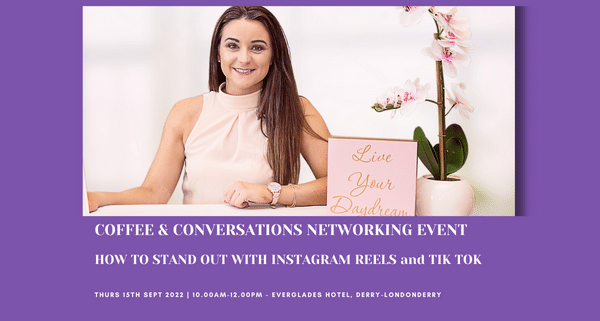 COFFEE & CONVERSATIONS NETWORKING EVENT
Featuring Guest Speaker: Emma Boylan, Founder of "Outside the Box" and Social Media Expert
Date: Thursday, 15 September 2022
Time: 10:00 am to 12:00 noon
Location: Everglades Hotel, Prehen Road, Derry~Londonderry BT47 2NH
Tel: 028 7132 1066
Event Fee: £6.50 (+ small Eventbrite fee)
Registration: Via Eventbrite (Must register by 14th September 5pm)
"HOW TO STAND OUT WITH INSTAGRAM REELS AND TIK TOK"
We are absolutely delighted to kick-off Coffee and Conversations on Thursday, the 15th of September, with featured guest speaker and social media expert – Emma Boylan.
Emma says "The definition of insanity is doing the same thing and expecting different results". And we couldn't agree more. Ready to shake things up? Then join us for this special opportunity to meet Emma and learn how to stand out with Instagram Reels and Tik Tok. Emma will provide a brief training on insights and tips to help you discover how to stop wasting time on social media strategies that don't work and start using it to attract your ideal clients and reach your goals.
Emma will cover:
• How to make a Reel and Tik Tok video
• What to post
• How to stand out and grab attention
• Content that speaks to your ideal client
• Tips to get more followers and engagement
There will be time for networking where you can meet and chat with like-minded women, get connected, get inspired, and further your professional and personal network base….and of course, served up with delicious coffee and scones! Hope to see you for this empowering and informative event! Registration required by Wednesday 14th September 5pm.

---
ABOUT EMMA BOYLAN
Emma Boylan helps business owners who struggle with marketing. She helps them fill their business with ideal clients and find a faster path to making more money by standing out and NOT sounding the same as every other business. As a result, they have massive breakthrough in their profits and attract their ideal clients again and again.
Emma left her 9-to-5 job 9 years ago to fulfil her dream of starting her own business, when she saw that most marketing was all the same and that businesses were really struggling to attract the right clients and have a message that made them different. Using her passion for creative content and background in psychology, Emma has helped hundreds of businesses get crystal clear with their message, so they stand out, get noticed, and fill their businesses with clients in record time.
Emma's impressive credentials include past President and Director Consultant with BNI, member of JCI Ireland, first President of Junior Chamber International Donegal, Business Person of the Year 2015, and JCI World Debating Champion. For more information, please visit: www.emmaboylan.com
ABOUT WOMEN IN ENTERPRISE
Women in Enterprise is a non-profit organisation and professional network for women in business. Whether self-employed or employed by someone else, enterprising or entrepreneurial – our supportive network encourages and empowers women IN business and INTO business. We provide signposting to relevant business support services and organise relevant business support events including networking, educational, and workshop events in the Derry/Londonderry area. Our members are movers and shakers making a difference in Ireland – both North and South. For more information about us and our membership benefits, please visit our website: www.womeninenterprise.biz