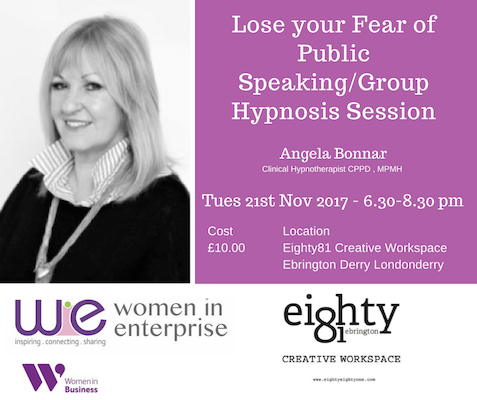 WOMEN IN ENTERPRISE & EIGHTY81 CREATIVE WORKSPACE – EVENT
Event: "Lose your Fear of Public Speaking/Group Hypnosis Session"
Speaker: Angela Bonnar, Clinical Hypnotherapist, CPPD, MPMH
Date: Tuesday, 21 November 2017
Time: 6:30pm – 8:30pm
Location: Eighty81 Creative Workspace
Building 80/81, Ebrington Square, Derry/Londonderry
Event Fee: £10.00
Sponsored by: Women in Enterprise in Partnership with Eighty81 Creative Workspace
[button color="#FFFFFF" background="#7C54AB" size="large" src="https://www.eventbrite.ie/e/lose-your-fear-of-public-speakinggroup-hypnosis-session-tickets-39511142892″]CLICK HERE TO BOOK[/button]
---
Nervousness, sweaty palms, knocking knees, dry mouth, rapid heartbeat…these are just some of the discomforts that are all too common resulting from public speaking. In fact, public speaking is the second biggest fear – second to death – and some people would rather die than have to speak in public.
Overcoming fear of public speaking is easier than you think through Clinical Hypnotherapist, Angela Bonnar, and her unique and proven intervention of hypnotherapy.
Angela specialises in the proven and successful hypnotherapy method Rapid Transformational Therapy and has a track record and high success rate helping her clients gain confidence and overcome unwanted behaviour.
Do you give talks at work, deliver presentations and speak in front of large audiences? Can you imagine yourself speaking to a group and really enjoying it?
Join us for a special group hypnosis session that will boost your confidence, build self-esteem, and help you overcome your fears of public speaking so that your next presentation is calm and effective.
About Angela Bonnar:
Angela is a Clinical Hypnotherapist and an advanced Marisa Peer Rapid Transformational Therapist. Angela's work and expertise covers a range of issues – from weight-loss to overcoming addictions – including confidence, self-esteem and attracting success. She believes the root cause of all issues is not feeling enough and is passionate about changing negative beliefs and habits. Angela holds a Diploma in Life and Business Coaching and is an NLP and EFT practitioner. She lives and works from her home in Ballycastle.
See more on her website: angelabonnarhypnotherapy.co.uk
About Eighty81 Creative Workspace:
Eighty81 is a shared creative workspace managed by Blick Studios on behalf of The Executive Office in Ebrington Square Derry~Londonderry. Eighty81 supports businesses in the creative industry and has created a supportive and inspiring creative hub in the heart of the city and work environment where creatives can meet and work alongside other like-minded creatives to collaborate, learn, grow and develop their businesses. For more information, please visit:www.eightyeightyone.com/