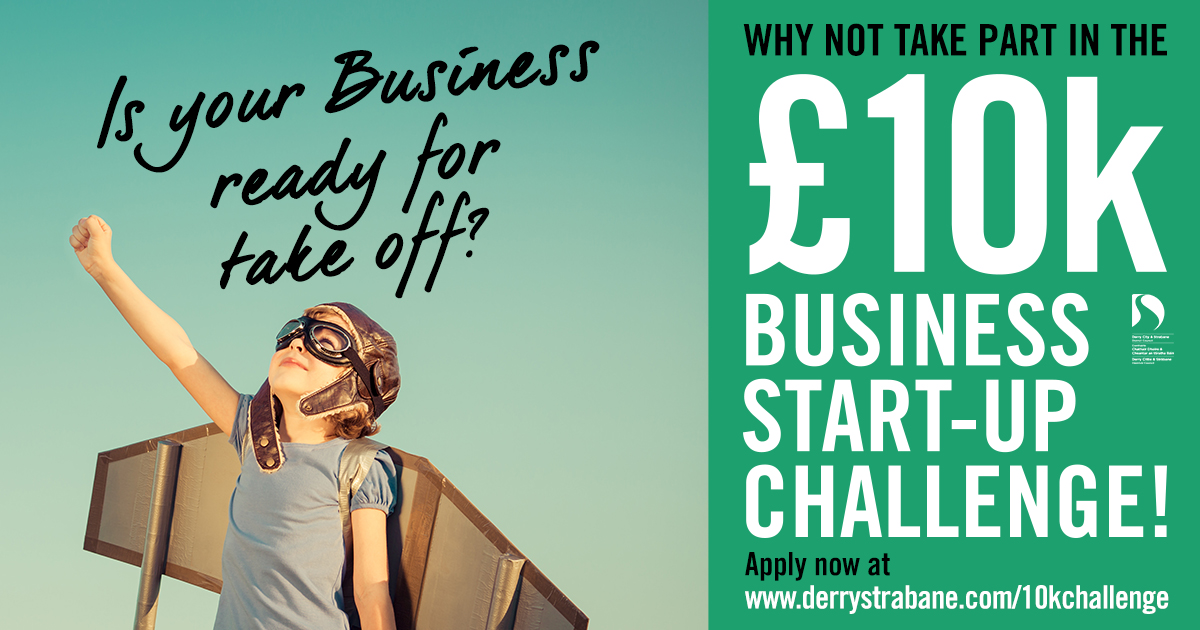 HAVE YOU GOT WHAT IT TAKES?
Now in its second year, the Business Start-up Competition is an initiative developed by the Derry City and Strabane District Council Business Support Team designed to:
Reward and encourage creativity, talent and innovative ideas that will benefit the local economy across the council area
Inspire, encourage and develop the spirit of entrepreneurship and enterprise.
Provide assistance both financially and via specialised business support package to entrepreneurs that have demonstrated the ability to create jobs and export their products into new markets.
The competition is open to professionals or businesses who have been trading within the last year and who have a unique and innovative business idea.  The professional or business must have enrolled and completed the Council led 'Go For It' Programme aimed at supporting and assisting new business start-ups.
Prizes and access to specialist professional guidance will be awarded to help entrepreneurs progress their business idea, as well as profile to promote their business.
PRIZES
1.    First Prize – £2,500
2.    Second Prize – £2,000
3.    Third Prize – £1,500
4.  Runner up prizes (x4) – £1,000 each
*Prize must be redeemed by 30 February 2019 and is non-transferrable. Terms and conditions apply.
HOW TO ENTER
Entering is simple and free – just complete the form HERE and return with a copy of your business plan before the deadline of 5pm on 12th February 2018.
ELIGIBILITY
The £10K Business Start-Up Challenge is open to individuals & businesses in the Derry City and Strabane District Council area who have started a business within the last year and / or who completed the 'Go For It' programme.
From these entries the judging panel will select seven winning candidates who will be invited to pitch their business idea at a pitching session on 8th March 2018 (during Enterprise Week) and prizes will be allocated on the same day.
JUDGING CRITERIA
1.    Quality of business plan
2.    Innovative business idea
3.    Growth, export, commercial potential
4.    Entrepreneurial spirit and drive
5.    Market research
6.    Ability to positively impact on the economy of Derry & Strabane
7.    How the Award will be used by the business

CLOSING DATE
Applications and business plans must be received by 5pm on 12th February 2018. 
All entries will be treated in the strictest confidence by the judging panel and no information will be disclosed to third parties without prior consent of entrants.  The decision of judges is final and prizes are non-transferrable.
For more info contact
Tara Nicholas
Business Officer
Derry City & Strabane District Council
Business & Culture Directorate
98 Strand Road
Derry
BT48 7NN
Tel: (28) 71253 253 Ext 6980
E-Mail: tara.nicholas@derrystrabane.com
www.derrystrabane.com
https://www.womeninenterprise.biz/wp-content/uploads/2018/01/10k_Challenge2018_1200x630px-social-media-graphic-.jpg
630
1200
WIE
https://www.womeninenterprise.biz/wp-content/uploads/2021/10/wie-logo-300x86.jpg
WIE
2018-01-17 09:53:04
2018-01-17 17:33:43
£10K Business Start-Up Challenge