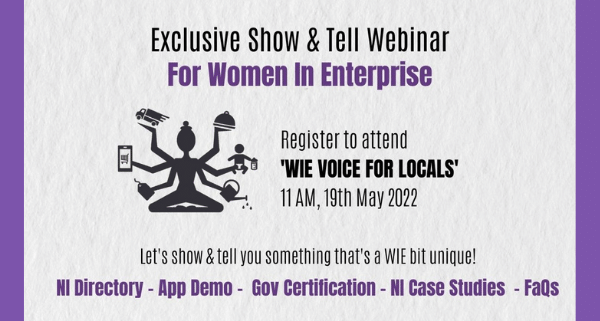 ---
Special Invitation for Women in Enterprise Friends & Members
Voice For Locals is a fully funded initiative sponsored by the UK Community Renewal Fund (UKCRF).
The Voice for Locals Initiative received £1.82m from the UK Government. It is the recipient of the fifth largest grant in the UK and the largest in Northern Ireland. The funding will be used to level up all members of Women in Enterprise for FREE. No strings attached.
What is Voice For Locals?
A levelling up initiative to help micro & small businesses (0-9 employees) with:
1. Directory Listing & Promotion (Unlimited leads & zero commissions)
2. Technology Tools (Drive repeat & referral business)
3. Marketing Effectiveness (Loyalty, awards, rewards, referrals, redemptions)
4. E-Learning & Certification (Endorsed by City & Guilds & HM Gov.)
5. Business & Tech Advice (Specific to improving marketing & customer experience)
How long is it for?
Free for 12 months.
After 12 months, the plan is for the project to be supported by UK Shared Prosperity Fund/Banks/UKRI/SBRI/Local Councils.
Connect with us
We are hosting an exclusive webinar for all members and friends of Women in Enterprise on 19th May 2022 at 11AM. Please join us to find out more about how Voice For Locals can transform your business.
Event Agenda
Overview – 10 minutes
Live demonstration – 10 minutes
Case studies – 10 minutes
Q&A – 20 minutes
How to sign up for the initiative?
Call us on T: 028 9592 7040 or request a call back at https://bit.ly/3NakXnJ.