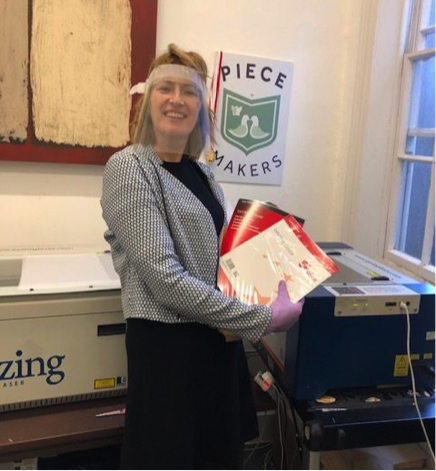 Welcome to Women In Enterprise "Good Stories" where we report on the so many wonderful projects and things our members are doing right now. This week, we'd like to feature member Joanne Doherty of Piece Makers:
From Piece Makers to PPE Makers!
Joanne Doherty, usually finds herself very busy making wooden gifts and ornaments. As Founder and General Manager of Piece Makers, she runs and operates her business as well as manufacturing with the use of laser cutter machines. Since the pandemic crisis and the apparent need for PPE, Joanne has put her lasers to use cutting and making now NHS Approved PPE Visors. Most are donated to Key workers at Hospitals, Care Homes, Surgeries, and Paramedics, and some are selling out at cost price to local businesses.
Converting her gift business into "Hero Mask" production was not without challenge. Joanne was already shouldering the cost of materials and running the operation while balancing family and homeschooling her 4 children. Getting hold of the acetate sheets that form the front face covering of the masks, were proving to be the most difficult as much of the world was building PPE and normally readily available sheets were on back order, sold out and unavailable.
Selina Horshi, President of JCI Derry got involved, putting out a call for acetate sheet donations and partnering with other organisations to extend reach; The Junior Chamber Derry, Londonderry Chamber of Commerce and the Derry/Strabane District Council all went out to seek help. Additionally, a crowdfunding page was set up to help with costs.
Creating the Hero Masks out of pocket and personally delivering them at the start, has now become an incredible team effort with the kindness and help from so many…including Joanne's own children and husband Kevin with assembly, sanitization and packing! Nearly 2,000 Hero Masks have been produced and delivered. Overwhelmed with gratitude, Joanne Doherty continues her efforts providing an essential service in our community.
Joanne welcomes donations to help cover her costs of the additional materials and running costs. If you would like to support her, please visit: https://www.justgiving.com/crowdfunding/ppeherovisors/updates/53c66





Paul Stafford and Selina Horshi helping with "Hero Mask" production, assembly and delivery


Joanne Doherty delivering "Hero Masks" to Hospitals, Care Homes, Surgeries and Paramedics



Daryl Mc Kinney and Megan Lennox (pictured in centre) have been collecting over 100 donated NHS Approved PPE visors to personally deliver to many care homes, collecting 25 at a time from Joanne!
Have a "Good Story" of your own? We'd like to hear from you! Whether corona related or not, or business related or not… if you are working on a project right now that you feel is a "Good Story", contact us and potentially have your story featured on our e-mailers and social media. Because now more than ever, we need the refreshment and inspiration of a Good Story!
Email your Good Story to: info@womeninenterprise.biz
We look forward to hearing from you!
https://www.womeninenterprise.biz/wp-content/uploads/2020/05/Joanne1.png
471
436
WIE
https://www.womeninenterprise.biz/wp-content/uploads/2021/10/wie-logo-300x86.jpg
WIE
2020-05-19 08:17:30
2020-05-29 08:34:21
From Piece Makers to PPE Makers!