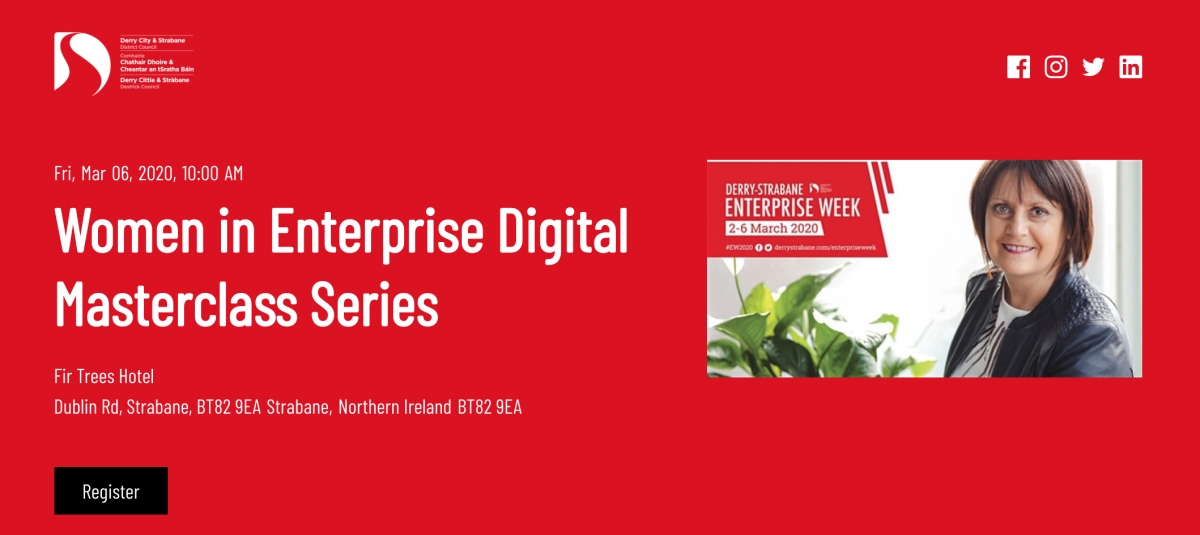 DERRY-STRABANE ENTERPRISE WEEK 2-6 MAR 2020
Enterprise Week 2020 is proud to support an Innovation & Growth Culture, offering SME's a wide range FREE events and workshops aimed at helping YOUR business develop and grow.
This year's Enterprise Week 2020 offers a full programme of over 30 business events ranging from Innovation & Growth, Digital marketing, Exporting, Employee Mental Health and Cyber Security to name a few. As always the schedule will welcome an impressive line up industry leading experts and guest speakers to help develop and inspire your business or startup idea.
Women in Enterprise are hosting a number of events in the Women in Enterprise Digital Workshop Series. 
11:00 – 12:00 How to Make Professional Video off your Smart Phone – Camilla Meegan, Poca Productions
In this brief introduction to the world of smartphone video production, Camilla will show examples of what is achievable on a smartphone; demonstrate how to optimize the video camera settings on your smartphone; demonstrate some of the latest equipment which will enhance your smartphone filming and give a brief demonstration of how to use your smartphone to edit video content.
12:00 – 13:00 The Murphy Method" How to use story as a tool for Innovation and growth – Sally Murphy Murphy Communications
During this interactive session, Sally will demonstrate the power of story as a key resource for businesses competing for growth in today's hectic digital landscape. Using case-studies and sharing easy to implement steps, participants will discover how they can use storytelling – both internally as a tool for innovation, goal-setting, creative thinking, and strengthening culture – and externally, in reaching customers and increasing sales in a busy marketplace. This session will help participants to:
Gain clarity so you can truthfully connect with more customers
Describe what you do in a way that makes sense and stands out
Build a blueprint for successful (strategic) communication
1.45 – 3.15 pm How to Push Out Online Content Effectively Marie Shields, Moss Marketing
This session will explore how intentional online marketing, can transform your business. Learn how to reach new and relevant audiences through actionable and measurable social media strategy, as well as how to create innovative DIY crafted content. Using online platforms efficiently to maximize your business messaging, and grow your audience through clear communication distributed online in ways that make the best sense for your business
3:30 – 5:00pm Shopify Masterclass – How to Make Money On Demand Laura Gallagher
In this session, Shopify Expert Laura Gallagher will show you a five- simple-step process on how to: 1) Set up your own Shopify Store, 2) How to find Products to sell, 3) How to find your customers, 4) How to fulfil your orders, and 5) How to build a brand
* REGISTER HERE FOR DAY 1 (YOU CAN ATTEND ONE OR ALL OF THE EVENTS ON THE DAY)
10.00 – 11.00 Cybersecurity 2020 – Essential Defence For Your Business – Dr Clare Ryan, ITUS Secure Technologies
This awareness training will give business owners and managers a high-level overview of the current cyber threat landscape and will provide best-practice recommendations towards safeguarding your business against cyber-attacks.Content includes:
Cybersecurity- the basics
Types of cyberattacks including phishing/social engineering
Elements involved in a typical cybercrime breach
Consequences of cybercrimes
Real life impacts of cybercrimes with case studies
Cybersecurity best practices and tips for employers and employees
Incident Response Planning
11.15 – 12.15 Instagram Workshop – From Your Feed to Your Stories – How to Stand Out – Emma Boylan, Out of the Box Marketing
This training will help you discover how to use Instagram so you can attract your ideal client by standing out
Feed Vs. Stories ; What's the difference and how to use each
What to post
How your profile should look
How to make your Instagram look good and stand out
How to write posts and stories that that speak to your ideal client
Hashtags ; Why and How to Use them
How to grab attention
Content plan moving forward
Bonus: Emma's secret tips to standing out and getting more followers
12.30 -1.30 The New SEO & Strategies to Improve Your Business – Patricia Greene, The Web Club
SEO or Search Engine Optimisation is about getting traffic (customers) to your website. It can be confusing and complicated and most local businesses are not using it to their advantage. But with 3.5 billion searches on Google every day it's a marketing strategy not to be ignored.
Patricia Greene will provide simple strategies to understand SEO and use it to significantly improve your business
1:30pm Lunch & Networking
* REGISTER HERE FOR DAY 2 (YOU CAN ATTEND ONE OR ALL OF THE EVENTS ON THE DAY)
https://www.womeninenterprise.biz/wp-content/uploads/2020/02/Enterprise-week-2020-Strabane-Workshop.png
535
1200
WIE
https://www.womeninenterprise.biz/wp-content/uploads/2021/10/wie-logo-300x86.jpg
WIE
2020-02-27 10:03:42
2020-02-27 10:44:33
Enterprise Week 2020 WIE Master Class Series